Frequently Asked Questions
Unless otherwise noted, invoices will be sent to your company's billing contact on file. All invoices will be emailed and sent from billing@medixteam.com. To ensure that this message doesn't go to your junk/spam folder, please add this address to your e-mail address book or update in your system's security settings.
For specific company requests and requirements, such as emailing invoices to managers directly, please contact Medix's account department (AR@medixteam.com) to ensure those details are taken into account when sending your company's invoice(s).
Payments to Medix should be made by ACH (direct deposit) to Medix's bank. If you need to request another method of payment, please contact AR@medixteam.com for assistance.
See the following for Medix's ACH Information:
Bank: PNC
Type: Checking
Routing Number: 071921891
Account Number: 4628440413
For non-US payments, please contact AR@medixteam.com for international routing information.
Please email GroupAR@medixteam.com with any questions or needed updates to your invoice or billing information.
Please contact GroupAR@medixteam.com
Note: Medix will give our clients a one-time courtesy credit for an incorrectly approved time card based on the circumstances. We will not give a credit for expenses approved in error unless we can take the funds back from the talent.
To update PO or cost center information, please contact GroupAR@medixteam.com.
You can group talent invoiced by project name, location, PO#, cost center or timecard approving managers. To update, please contact GroupAR@medixteam.com.
Payment and other invoicing terms, such as fees, can be found in your contract with Medix. If you need clarity on your payment terms, please contact GroupAR@medixteam.com.
Medix completes payroll on a weekly basis. Timecards should be approved no later than Tuesday at 12 p.m. ET for the prior week's work. Medix talent are paid every Friday.
Once they have time cards to approve, managers will receive an email directing them to click a link to view and approve time and expenses in Medix's system (BTE). For time and expenses, managers will receive two separate emails to review and approve. Time and expenses cannot be reviewed and approved at the same time in Medix's system.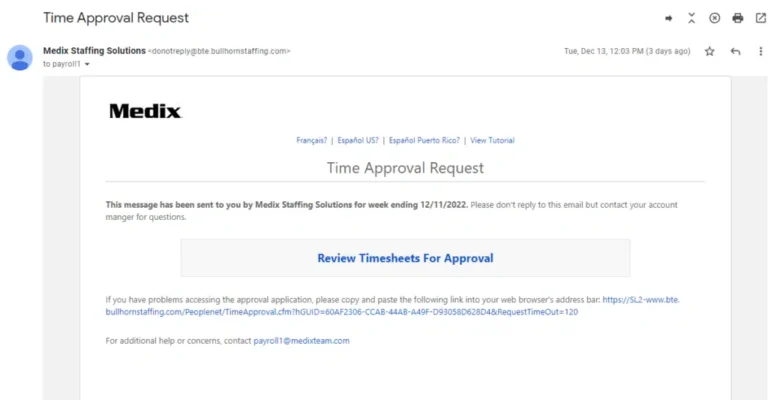 Managers will receive automated emails at 4 p.m. ET on Mondays to approve time and expenses for talent. Reminders will be sent on the following Tuesday if there is time and/or expenses pending approval. Once time and expense requests have been approved by managers, a confirmation email will be sent.
Time and expense emails are sent separately and managers must use the separate link in the email to approve each time and expense submission. Additionally, Medix's system groups talent by branches. If you have talent in multiple branches, you will receive one email per branch.
Medix talent accrue and can use PTO at no charge to our clients. If a talent asks about using PTO, they should contact their recruiter directly to inform them of the request and input the PTO into their time card for your approval.
Based on the local jurisdiction of where your talent works, they may accrue sick leave. If you have any questions on your talent eligibility for sick leave and/or need clarification on sick leave policies that Medix is adhering to, please reach out to payroll@medixteam.com.
One of two options may be occurring: If the talent hasn't submitted time, they will not be listed once you log in. To view talent with missing timecards, a report is available in the upper right corner by clicking on the "Reports" option.
The talent belongs to a different branch than the talent time cards you are viewing. If you have talent in multiple branches, you must click the link in each of the branch approval request emails to log in and approve time.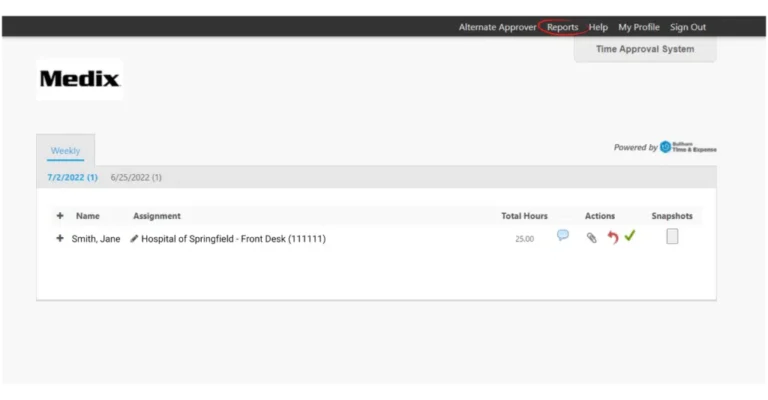 In the main screen, you'll see the talent's total hours. You can hover over total hours and click to view the full timecard breakdown and comments listed.
No. All timecards for review would have been submitted by the talent. If a talent submits time for days or time not worked, reject the time card and leave a note in the comments. Reach out to your account manager to help coordinate and review any payroll issues with the talent.
Yes. Once in the portal, you can use the navigation bar in the upper right to view past time and expense submissions by clicking on the "Reports" option.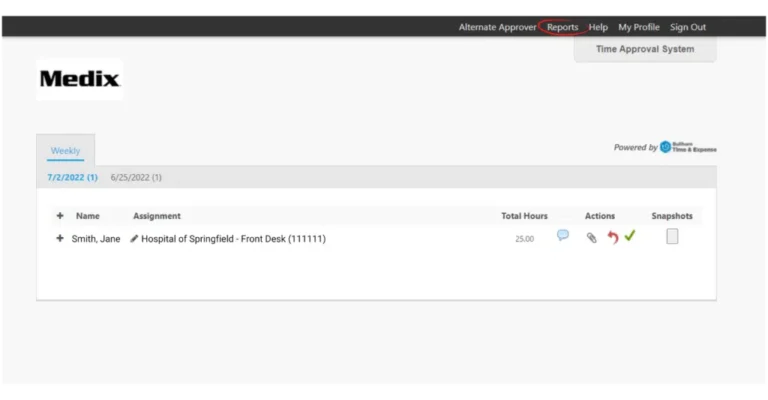 No. Managers do not have a login to our time and expense system. The only way to log into Medix's time and expense system is by clicking the link in a time or expense email.
If there is not an active time or expense request pending approval, managers can click the link in prior email to be able to access the portal.
Note when using a past email to access the portal: Once the email link is clicked, follow the prompts for a new link to be generated and sent to your email. It may take 15-30 minutes for the new link to be generated and sent to your inbox.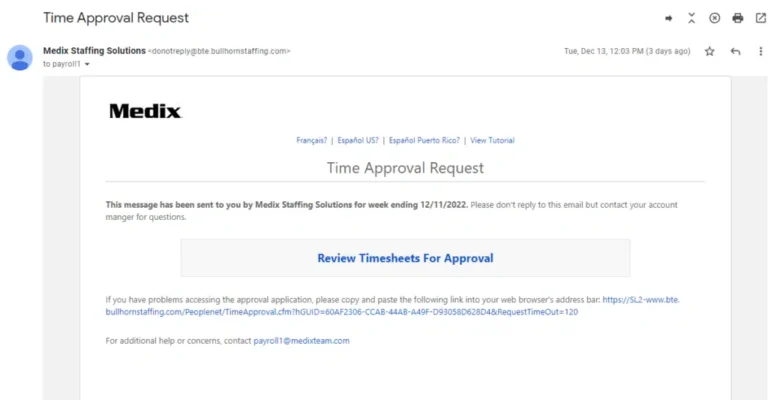 First, check your junk/spam folder and verify Medix's time and expense emails have not been flagged as junk/spam email. Emails are sent from donotreply@bte.bullhornstaffing.com. If the emails were sent to spam, please mark and update in your email settings to ensure they go to your inbox moving forward.
Second, if the email is not in your junk/spam folder, it may be blocked from your company's internal IT department. To enable your ability to receive emails from Medix's system (BTE), ensure that your IT allows for emails from donotreply@bte.bullhornstaffing.com to be received and are not blocked by your firewall or other security measures.
Contact payroll@medixteam.com for assistance and a member of Medix's payroll team will reach out to you directly.
Yes. Medix tailors compliance for each talent based on the requirements of our client. You can verify the compliance requirements we have currently documented on your agreement with Medix by contacting your account manager.
Please contact your account manager directly to discuss the changes required. For additional support, please contact clientexperience@medixteam.com as needed.
If there is a change to your compliance requirements, please let your account manager know as soon as possible. From there, your account manager can collaborate with Medix's legal team to create needed documentation, such as an addendum, to properly document the needed changes.
Your account manager will be in contact with you throughout the recruitment and hiring process, letting you know a talent's progress and when they have completed compliance. In addition to your account manager's communication, you can also track compliance notifications via Aha!, Medix's talent management platform, and subscribe to compliance email notifications.
Medix's compliance team works to complete the process in the most effective and efficient manner possible. This includes time for our team to document and process paperwork for coordinating clinic visits and health/background requests from the day the offer is accepted by your talent. Generally, the following is what our team anticipates as processing times as part of our compliance process (including time for collecting talent paperwork and required personal information):
Background: 3-5 business days
Health: 7-10 business days from clinic visit date
Drug screen: 3-5 business days from clinic visit date
It's important to note: The rate at which compliance can be completed is impacted by a number of external factors, such as processing times at laboratories, delays/closures of institutions required for education and background checks, contacting overseas facilities for validation, and candidate availability.
Your account manager will contact you directly if there are any delays/issues in your talent's compliance process. During that time, your account manager can provide clarity on your talent's eligibility to work or impacts to their projected start date to uphold and ensure compliant processes.
Medix sends a brief client experience survey to all talent managers and/or talent timecard approvers. If you are receiving this survey, it means you are assigned as either (or both) in Medix's talent management system.
If you had a Medix talent start or finish their assignment, you can expect to receive this survey the following Wednesday. However, this survey will be skipped if you've already received this survey in the past 13 weeks.
Each response is reviewed by our Client Experience team. Regardless of the rating or feedback given, a member of our Client Experience team will follow up via phone and/or email.
At Medix, we strive to positively impact lives. This means following up with our clients to better understand what we're doing that has a positive impact and should be shared across teams, as well as learning more about areas we can take action to improve.
Medix has partnered with ClearlyRated to manage our client experience feedback. ClearlyRated is the go-to expert for driving client experience in B2B organization through structure surveys and tailored guidance.
MyPrint is Medix's proprietary soft skills assessment, identifying 13 personality traits, 11 motivations, and 11 behaviors, with all insights identified being specific to the workplace.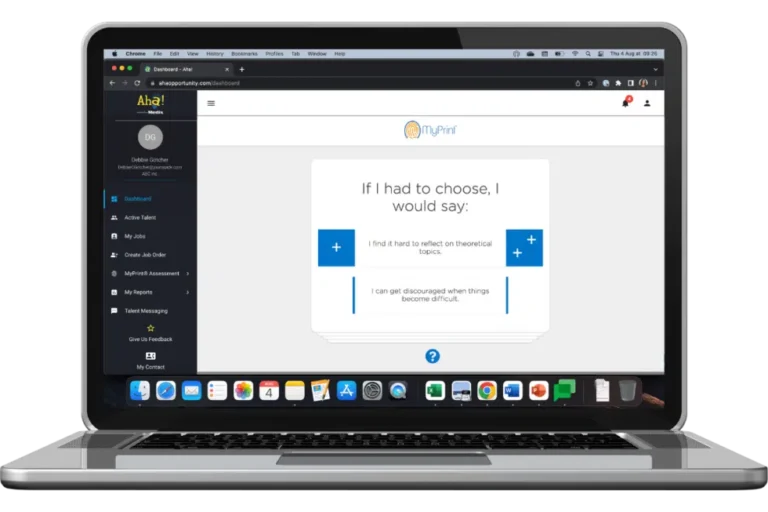 MyPrint can be completed via Medix's platform, Aha!, by clicking the "MyPrint" icon in the left-side navigation bar. See the Aha! FAQs for more information on logging into Aha!.
Results from individual and collaborative reports can be used to make employee selection decisions, enhance interviews, and drive employee onboarding and engagement. For additional assistance with reporting and reading results, please contact clientexperience@medixteam.com.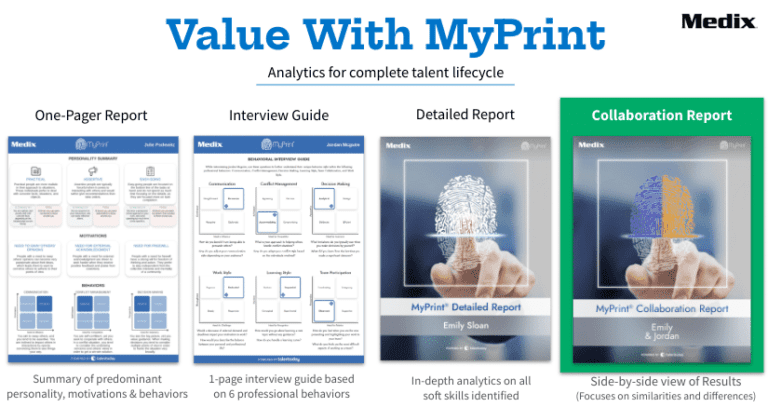 Through the acquisition of Talentoday, a French-based technology company, in 2018, Medix owns the science and technology behind the MyPrint assessment.
Yes. Please contact clientexperience@medixteam.com to discuss needs further. For small groups of non-Medix talent and managers, we can assist on an ad-hoc basis through Aha!. For larger groups and access to additional management tools, an introduction to Medix's sister company, Talentoday, may be the best solution to meet your needs.
Aha! Is Medix's talent management platform designed to guide our clients through each phase of the talent lifecycle. In Aha! you can anticipate 24/7 access to our team's progress on your open positions, talent hours and spend reporting, and access to additional solutions offered by Medix, such as our MyPrint soft skills assessment.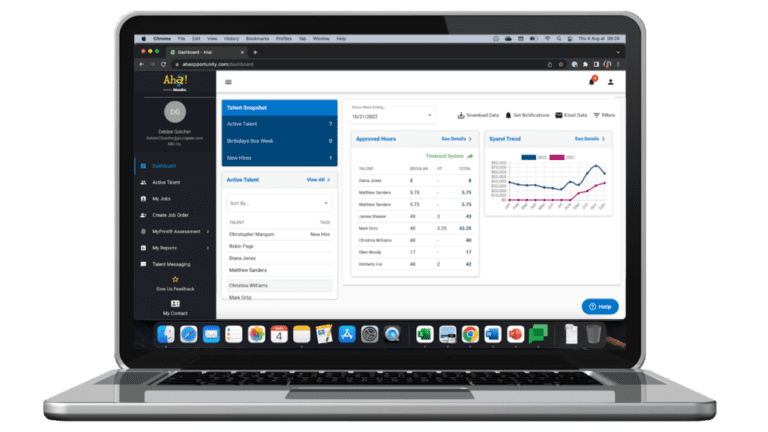 To log into Aha!'s employer portal, please go to https://ahaopportunity.com/employer/sign-in and log in using your professional email on file with Medix. From there, you'll be able to see all candidates and talent associated with your employer profile. For any issues logging in or finding the data you need, please reach out to clientexperience@medixteam.com and/or your account manager directly.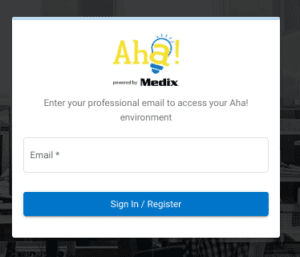 No. For approving and viewing timecards, you must go through Medix's vendor (BTE) directly. To learn more about Medix's payroll process, please view our Payroll FAQ.
Medix is a staffing company and we specialize in supplying our clients with quality talent across the following industries: healthcare, life sciences, technology, manufacturing and engineering.
Medix's corporate office is located in Chicago, IL with our team spanning across the United States and supplying our clients with talent in both the United States and Canada. For staffing outside of US and Canada, please contact your account manager or clientexperience@medixteam.com to discuss potential international solutions.
Work with a Trusted Healthcare and Life Sciences Staffing Agency.
We help companies find great talent — and great talent find great jobs.