Today, the Federal Funds Rate, which generally reflects the cost of borrowing money, is 5.25% to 5.50%, the highest it's been in nearly 20 years. In fact, just a few short years ago, it was nearly 0%. This alarming increase has jolted the U.S. economy, causing interest rates for business loans and commercial mortgages to spike.
While large businesses have a number of ways to borrow money, including commercial bank loans, corporate bonds and more, let's take one example from today's environment: a $50 million amortized loan for a software system that's being paid off over 10 years, or the useful life of the system. In this case, just a 2% increase in the interest rate equates to a substantially higher total cost, with almost six million dollars in additional interest.
$50 million, for 10 years, at 3.25% interest = $58.6 million payback

$50 million, for 10 years, at

5.25% interest

= $64.4 million payback

(+ $5.8 million)
For some additional perspective, on a $100 million loan, a 2% increase in the interest rate comes out to $11.5 million more.
$100 million, for 10 years, at 3.25% interest = $117.3 million payback

$100 million, for 10 years, at

5.25% interest

= $128.8 million payback

(+ $11.5 million)
Because of this sharp, roughly 10% increase in the total payback of loans (based on just a 2% rise in interest rates), along with a steady rise in inflation and an ongoing fear of a recession, companies have become cautious about carrying debt in order to finance technological transformation projects. But that doesn't mean they aren't doing it.
Despite the high interest rates and economic concern, capital expenditures are up.
"Nonresidential fixed investment—a proxy for capital expenditures—grew at a 7.7% seasonally-adjusted annual rate in the second quarter. It's a turnaround from the past decade and a half when companies prioritized share buybacks at the expense of capital investments in the aftermath of the Great Recession." In healthcare, we're seeing examples of major capital investment, even for billions of dollars.
Furthermore, the $60 billion U.S. healthcare IT market is projected to triple in size by 2030. According to Grand View Research, "Growing healthcare expenditure coupled with rising consumer demand for efficient, effective, and advanced treatment solutions is supporting the development and growth of the market. Increasing consumer awareness towards innovative and upgraded solutions is boosting market growth over the forthcoming years."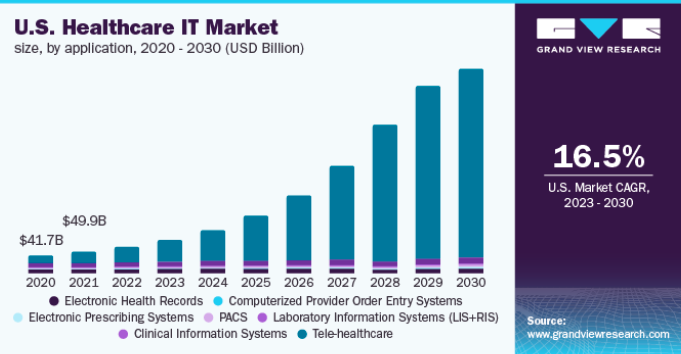 With the cost of borrowing money so high, yet the demand for advancements in healthcare (capital expenditures) equally as high, healthcare and life sciences organizations must find a cost-effective way to move forward—a way to appease CFOs, CIOs, and CMOs.
What's the solution?
Build a flexible healthcare or life sciences technology project workforce.
Build a flexible healthcare technology project workforce to control costs.
Finance leaders are carefully scrutinizing budgets and expenses, putting pressure on enterprise-level project leaders to spend wisely and connect spend to impact. Oftentimes, it's the ability to quickly augment workforces, and save on labor costs, which helps healthcare organizations stay on budget for technology projects related to cloud architecture, data engineering, electronic health records, enterprise resource planning, security, and more.
Much of it boils down to thoughtful staffing strategies. For instance, it makes little sense to hire a permanent IT project manager for a six-month job. And why use a costly consultant for a technology support function which could be completed by a lower-level staffer? There are countless other examples. And there are almost always flexible, less expensive alternatives—often to the tune of tens of thousands of dollars per role—who can produce the same quality of work, including experienced temporary workers and contractors. The fact that "83% of tech professionals would consider working in healthcare" has helped supply meet the demand for this flexible talent.
Use consultants and/or contractors to augment your workforce throughout your technology project.
Here's a brief look at the usual roles of a traditional consulting firm, which offers in-house consultants, and a staffing agency, which offers contractors, along with the most objective pros and cons of each.
Traditional Consulting Firm/Consultants
Generally speaking, a traditional consulting firm—think Accenture, Deloitte, PwC, etc.—is brought on during the planning phase of a complex healthcare technology project. They tend to devote significant resources at the early stages, including high-end project management and technology talent, to develop actionable strategies around planning, governance, and infrastructure.
Traditional Consulting Firm Pros:
Immense amount of resources, from analytics to project management to IT

Unparalleled experience launching similar projects for like organizations

Full, end-to-end project management and technology support
Traditional Consulting Firm Cons:
Relatively expensive compared to the alternative

Significant loss in knowledge once relationship expires
Staffing Agency/Contractors
Staffing agencies, on the other hand, can be brought on during the planning phase or at any point in the project, even to work alongside consulting firms. Oftentimes though, when a project reaches a point where more implementation is needed—even though large staffing agencies are capable of some consulting—it is beneficial to shift support to a staffing partner's contract workers.
Staffing Agency Pros:
Relatively inexpensive compared to the alternative (often 20%-40% less per role)

Deep talent pool of healthcare IT professionals, including analysts, developers, and engineers

Able to enter projects at various points with talent who can quickly integrate

Highly flexible with temporary talent, temp-to-perm, and direct hire support
Staffing Agency Cons:
Not the ideal consulting solution for project planning and strategy

Not one cohesive team
Today, staffing agencies have access to more high-level talent than ever before. This can result in comparable project implementation talent but at a lower cost compared to consulting firms, especially considering some consultants have quit their jobs to go independent. It's safe to say that the definition of "temporary worker" has changed, and that healthcare organizations are not only looking at them in a more positive light, but benefiting from their expertise at an increasing rate.
"Consulting firms have an obvious role in any large healthcare technology project. At Medix Technology, we're here to complement them, especially once a project shifts from strategy to implementation," said Jeb Corley, Medix Technology's Vice President of Information Technology. "We can help assess when this point is and what type of talent is needed moving forward."
"Using a traditional consulting partner to execute on what they consult on doesn't necessarily produce the ROI expected. When that is the case, there is a real opportunity in today's tech hiring market, with more talented 'gig' workers than ever, to diversify your workforce. To build your own team to implement services which you would generally outsource, and benefit from the lower cost associated with it. Usually, we can provide project implementation and support talent for up to 40% less than comparable onshore resources from consulting firms, which we're finding increasingly appealing to clients as they feel the pressure to innovate under strict budget constraints. Plus, we provide flexibility, with the option of converting our talent to permanent hires."
---
Medix Technology is here to help your hospital or health system build the workforce you need to execute critical digital and technology initiatives with increased flexibility and cost-effectiveness.